» Home
Most recent comic:
BIRDLAND, U.S.A. (33)
---

4) Hubert and Frank by DiegoStars on DeviantArt
posted by dee-dee on Dec 05 2016 09:37 pm || 0 comments
---
---
Thanks for the wonderful celebratory fanart! Isn't that a handsome goose?
If you like BIRDLAND, show your appreciation with some fanart. Contact me, and you could be featured on the front page, too!
Q.T.
posted by dee-dee on Oct 29 2016 09:04 am || 0 comments
---
---
posted by dee-dee on Jun 04 2016 12:43 am || 0 comments
---
---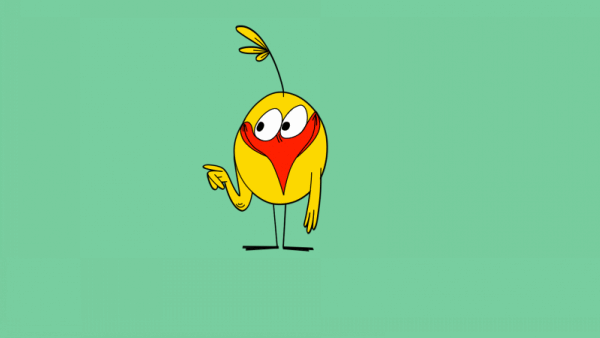 GIF -- Making a point by DeeIsBrowsing
posted by dee-dee on May 14 2016 06:03 am || 0 comments
---
---
Whether you're new to the series or want to enjoy the first few strips all over again, there's a 10 page feature in this month's issue of StArt Faire, a fabulous magazine for independent comic creators, artists and writers!

If you were directed here from the feature, then you're certainly welcome in my domain. Please browse around, and if you get into it, don't be afraid if progress starts to lag.

Thanks!
QT
posted by dee-dee on May 02 2016 04:40 am || 0 comments
---
---
As my condition grows worse and I get lazier all the time, I must sacrifice some Fridays to work properly on new BIRDLAND strips. Sorry.

QT
posted by dee-dee on Apr 22 2016 09:04 pm || 0 comments
---
---

BIRDLAND, U.S.A. is once again back in action, and readers of StArt Faire, a fabulous magazine for artists and writers, are arriving just in time to catch up with all the goings-on around here.

If you've been directed here from StArt Faire's 2nd issue (April 2016) then please check out what I have to offer. Start from the first strip, read as much as you wish, and feel free to tell me what you think about anything about BIRDLAND. If you like what you see, come back on Mondays and Fridays for updates!

Thanks for stopping by!
QT
posted by dee-dee on Apr 03 2016 10:55 pm || 0 comments
---
---
As if anybody cared, I'm going to take an indefinite break from doing Birdland, for I am too tired and worn out to deal with it on top of just living life.

QT
posted by dee-dee on Mar 01 2016 02:49 am || 0 comments
---